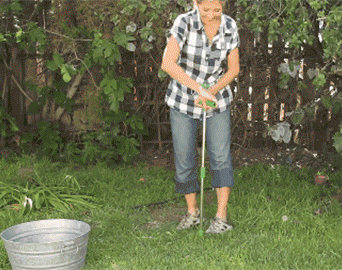 Specifications:
Package:
Weeding is a tiring job and it really causes back pain. But, how can we maintain having weed-free yards and garden if we will not engage in this tedious work?

Make your garden weed-free using this  Stand-Up Weed Puller - the vertical weeder tool for effortless weed pulling.
Suitable in removing roots of grasses, fruits, vegetables, flowers & more 
Maintain a weed-free surrounding using this Stand Up Weed Puller and say goodbye to backache thereafter!
STAND UP WEED PULLER PARTS AND USES - 
LONG VERTICAL POLE BODY

 

- Adopts the height that is comfortable to man and saves him from bending to avoid any bodily or back pain. 
T-SHAPED HANDLE

 

- Ergonomically designed for a firm grip and easy twisting
STAINLESS STEEL PRONGS

 

- Triangular prongs to effectively grasp the grassroots for easy weeding. It has a protective cover to protect and guard it against inflecting harm. 
SPRINGED INNER ROD

 

- Connected directly to the prongs for easy ejection of the pulled-out weeds. 
KEY FEATURES:
HOW TO USE:
Identify

 

which grassroots is to be removed
Push

 

the prongs to the ground making sure to identified roots is in the center
Twist

 

the puller to loosen the soil and let the tine grasps grassroots,
Pull

 

out the weed
Eject/ Release

 

the grass.
The 
safest and easiest way of pulling off grasses.
No herbicides or other harmful chemicals! No backaches, too!